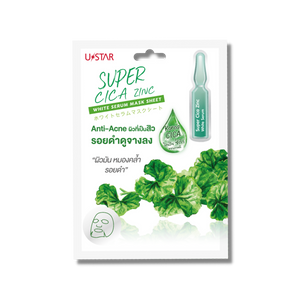 Super Cica Zinc White Serum Mask Sheet (18g)
4,800Ks

4,800Ks
Tax included.
Shipping
calculated at checkout.
---
---
ချွေးပေါက်ကျယ်ပြီးဝက်ခြံရှိတဲ့အသားအရေပိုင်ရှင်များနှင့်သင့်တော်ပါသည်။
Korea CICA ပါဝင်သောကြောင့် ရောင်ရမ်းနေသော ဝက်ခြံများကိုသက်သာစေကာ ချွေးပေါက်ကျဥ်းစေကာ အဆီပြန်ခြင်းကိုလည်းထိန်းချုပ်ပေးပါသည်။
မျက်နှာကပ်ခွာကို (၁၅)မိနစ်ခန့်ကပ်ပေးပြီးနောက် ကျန်ရှိသော Essence အရည်များကို လည်ပင်းတစ်ဝိုက်တွင်လိမ်းပေးနိုင်ပါသည်။ပြန်ပြီးရေဆေးချရန်မလိုပါ။
Mask sheet suitable for acne-prone skin, oily skin, enlarged pores
Contains essential tea tree oil for acne control
Korea CICA for skin protection and reduce irritation
Zinc PCA reduces bacteria, control excess oil, reduce infection
Phyto-Soothing Complex nourishes deep into the skin
Bio Shield-P creates a strong skin barrier from pollution
Fresh fragrance
Alcohol-Free, Paraben-Free, Mineral Oil-Free, Silicone-Free, Colorant-Free, MIT-Free, Cruelty-Free
Directions: After cleansing, place the sheet mask and gently spread over face. Leave on for 10-15 minutes. Gently remove mask and lightly massage any remaining liquid into your skin. Do not rinse. 
as desired. Gently remove mask and lightly massage any remaining liquid into your skin and do not rinse.

(INGREDIENTS) (W/W): WATER BUTYLENE GLYCOL TREHALOSE, NIACINAMIDE, PHENOXYETHANOL CHLORPHENESIN CARGOMER

PPG HULHU COLA GLYCERIN, POTASSIUM HYDROXIDE, PEG-40 HYDROGENATED CASTOR OIL, KANTHAN GUM, BETAINE SODIUM

HIALURONA, NAGAME NE FCA TOCOPHERYL ACETATE, SACCHARIDE OMERATE, 12 HI XANTOOL MELALEUCA ALTENBFOLIA (TEA TREE LEA O

CAPRILY GUN HAMAM LIS VIANA WICH HAZILI EXTRACT, CITRIC ACID SODIUM CITRATE, ALDE BARBADENSIS LEAF JUICE HYDROLYZED ALGIN

CHAMOMILLA CUA MATRICARIAL FLIMSH EXTRACT, LUCOSE, BIOSACCHARIDE DUM 2, CENTELLA ASIATICA EXTRACT, SODIUM MENZOATE POTASSIUM

SORSALES ACETYLATED HYALURONATE SODIUM HYALURONATE CROSSPOLYMER HYDROLYZED HYALURONIC ACID HYDROLYZED SODIN

HYALURONATY HYDROXYPROPY

HYNONATE POTASSIUM HYALURONATE ALTERDAGINAS FERMENT EXTRACT, HYALURONIC MIR O

CRISPOSTARANAN) EXT
---
We Also Recommend
---