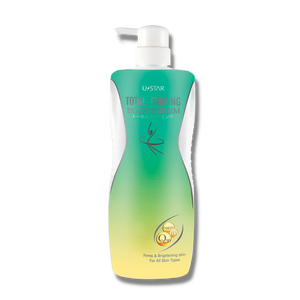 Total Firming Body Serum (450ml)
12,150Ks

12,150Ks
Tax included.
Shipping
calculated at checkout.
---
---
ရှားစောင်းလက်ပပ်၊Vitamin E နှင့် သဘာဝအဆီအနှစ်တို့ ပါဝင်ပေါင်းစပ်ထားသောကြောင့် အသားအရေကိုစိုပြေချော‌‌‌မွေ့စေပါသည်။
Nano Q10နဲ့ ဗီတာမင်များစွာပါဝင်တဲ့အတွက် အသားအရေကို တင်းရင်းပြီးနုပျိုလန်းဆန်းစေမှာဖြစ်ပါသည်။
သင့်တော်ရုံ လက်ထဲထည့်ပြီး ခန္ဓာကိုယ်အနှံ့လိမ်းပေးရန်။
Body Serum help the skin firm and elasticity.
It contain natural complex such as Centella extract, Aloe Vera Essence, Vitamin E bead, Carnitine, Caffeine and Nano-A10 to nourish tired skin to look shine, hydrating, smoothing and younger looking skin.
Directions : Apply a generous amount to body whenever desired.
 (INGREDIENTS) : WATER, ISOPROPYL MYRISTATE, GLYCERIN, GLYCERYL STEARATE,
MINERAL OIL, PVP, CETEARYL ALCOHOL, DIMETHICONE, POLYSORBATE 60, STEARYL ALCOHOL, PEG-100 STEARATE, PHENOXYETHANOL, FRAGRANCE, TRIETHANOLAMINE, METHYLPARABEN, CARBOMER, ETHYLPARABEN, DISODIUM EDTA, NIACINAMIDE, MANNITOL, CELLULOSE, TOCOPHERYL ACETATE, ALOE BARBADENSIS LEAF JUICE, MALTODEXTRIN, BUTYLENE GLYCOL, CI 77492, ALCOHOL, CARNITINE, HYDROXYPROPYL METHYLCELLULOSE, CAPRYLIC/CAPRIC TRIGLYCERIDE, CENTELIA ASIATICA EXTRACT, LECITHIN, SODIUM BENZOATE, CAFFEINE, DIISOPROPYL ADIPATE, UBIQUINONE, POTASSIUM SORBATE, COENZYME A
---
We Also Recommend
---