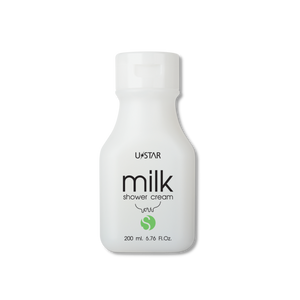 Milk Shower Cream (200ml)
7,400Ks

7,400Ks
Tax included.
Shipping
calculated at checkout.
---
---
နို့ရည်အဓိကပါဝင်ပြီး အသားအရေကို နူးညံ့ချောမွေ့စေကာ အစိုဓာတ်ကိုအချိန်ကြာရှည်စွာထိန်းထားပေးနိုင်ပါသည်။
သင်းပျံ့သောရနံ့ဖြင့် နေ့စဥ်အသုံးပြုပါကသားအရေကို ဖြူစင်ဝင်းပ‌စေပါသည်။
သင့်တော်ရုံ လက်ထဲထည့်ပြီး ခန္ဓာကိုယ်အနှံ့ ပွတ်လိမ်းပြီနောက် ‌ရေဖြင့်ပြန်လည်သန့်စင်ပေးပါ။
A special formulated shower cream with hydrolyzed milk proteins, Licorice Extract and Aloe Vera Leaf Juice helps your skin so soft and natural healthy looking skin.
Hydralyzed Wheat Protein leaves skin smooth and firm.
Directions:  Pour this shower cream on your hand or sponge. Smooth into all body skin and rinse off with clean water.
(INGREDIENTS) : WATER, SODIUM LAURETH SULFATE, GLYCOL DISTEARATE, SODIUM CHLORIDE, COCAMIDOPROPYL BETAINE, GLYCERIN, COCAMIDE DEA, PHENOXYETHANOL, SODIUM BENZOATE, FRAGRANCE, PROPYLENE GLYCOL, METHYLPARABEN, CITRIC ACID, PEG-150 DISTEARATE, TETRASODIUM EDTA, HYDROLYZED MILK PROTEIN, ALOE BARBADENSIS LEAF JUICE, MALTODEXTRIN, GLYCINE, MACROCYSTIS PYRIFERA (KELP) EXTRACT, SODIUM LACTATE. GLYCYRRHIZA GLABRA (LICORICE) ROOT EXTRACT, PVP, HYDROLYZED VEGETABLE PROTEIN, SODIUM CITRATE, POTASSIUM SORBATE.
နိူ့ရည်န့ံသင်းသင်းလေးနဲ့ရေချိုးလို့အန့ံလေးကျန်ခဲ့တယ်
---
We Also Recommend
---