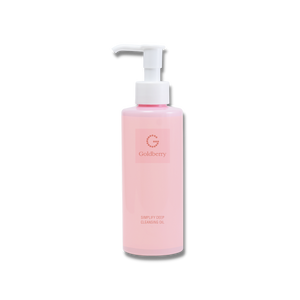 Goldberry Simplify Deep Cleansing Oil (150ml)
30,800Ks

30,800Ks
Tax included.
Shipping
calculated at checkout.
---
---
စေးကပ်မှုမရှိ၊ ပေါ့ပါးပြီးချောမွတ်စေသော Oil-type makeup remover ဖြစ်ပါသည်။
ဂျပန်နိုင်ငံအကောင်းဆုံးနည်းပညာနှင့်ပေါင်းစပ်ထုတ်လုပ်ထားသောကြောင့် လေထုထဲရှိဖုန်မှုန့်များနှင့် အညစ်အကြေးများကို ဖယ်ရှား‌ပေးနိုင်သည်။
Sun Cream

နှင့်

Waterproof Foundation

တို့ကိုပါ အတွင်းသားထဲအထိစေးကပ်ခြင်းမရှိဘဲ လုံးဝဖယ်ရှားသန့်စင်နိုင်သည်။

အသားရေကိုအစိုဓာတ်ဖြည့်ပေး၍ ဖြူဝင်းလှပစေပြီးနူးညံ့တင်းရင်းသောအသားရေကိုရရှိစေသည်။
မည်သည့်အသားရေကိုမဆိုအသုံးပြုနိုင်ပြီ လိမ္မော်ရနံ့ ပါသောကြောင့်စိတ်ကိုလန်းဆန်းစေသည်။
အသုံးပြုပုံ -  မိတ်ကပ်လိမ်းခြယ်ထားသောမျက်နှာပြင်ဧရိယာပေါ်သို့ အစက်ချကာလိမ်းပေးပါ။လက်ချောင်းလေးများအသုံးပြုကာဖြေးညှင်းစွာ မျက်နှာအနှံ့ပွတ်ပေးပါ။ ထို့နောက်လက်ဖဝါးအတွင်းသို့ ရေအနည်းငယ်ထည့်ကာ မျက်နှာပြင်တဝိုက်ပွတ်ပေးပြီး ရေ‌ခပ်နွေး‌နွေးလေးဖြင့်ပြန်လည်ဆေးကြောပေးပါ။


Oil-type makeup remover that is light, soft, smooth, non-sticky texture.
Transform to milky texture when mix with water.
It is infused with Organic virgin olive oil  which the molecules similar to the skin.
It makes it possible to remove makeup and dirt deeply ,even with long-lasting makeup thoroughly in one step without drying the skin.
Also maintain nature moisture balance of the skin.
Contains scented essential oil from orange peel, which helps to relax while using.
Suitable for all skin types
Directions : (1) Take 2-3 pumps of cleansing oil on the palms of hand (2) Gently smooth over face (3) Wet face to emulsify (4) Rinse thoroughly with water
INGREDIENTS: ETHYLHEXYL. PALMITATE, ISOPROPYL MYRISTATE, SORBETH-40 TETRAOLEATE, ISOTRIDECYL ISONONANOATE, ORYZA SATIVA (RICE) BRAN OIL, SORBITAN SESQUIOLEATE, CITRUS SINENSIS PEEL OIL EXPRESSED, SQUALANE, OLE EUROPAEA (OLIVE) FRUIT OIL, SIMMONDSIA CHINENSIS (JOJOBA) SEED OIL, BHT, BISABOLOL, ASCORBYL TETRAISOPALMITATE, PRUNUS AMYGDALUS DULCIS (SWEET ALMOND) OIL, TOCOTRIENOLS, TOCOPHEROL.
---
We Also Recommend
---