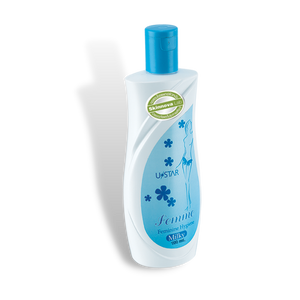 Femme Feminine Hygiene PH Balance Milky (100ml)
4,900Ks

4,900Ks
Tax included.
Shipping
calculated at checkout.
---
---
လက်တစ်အက်ဆစ်၊ ရှားစောင်းလက်ပပ်ပါဝင်ပြီး PH Level ကိုထိန်းညှိပေးကာ ပိုးမွှားနှင့်အနံ့ဆိုးများကိုကင်းစင်စေပြီး မိမိကိုယ်ကိုယုံကြည်မှု ရရှိစေမှာဖြစ်ပါတယ်။
သင့်တော်ရုံ လက်ထဲထည့်ပြီး အမျိုးသမီးကိုယ်အနှံ့  ညင်သာစွာ ဆေးကြောပါ။
ယားယံခြင်းမရှိဘဲ နူးညံ့သောကြောင့် စိတ်ချစွာနေ့စဥ်အသုံးပြုနိုင်သည်။ 
Specially designed for the intimate area, pH balance formula helps to maintain natural balance delicately and protect the intimate area with Deo-active Cleanser
It helps to clean dirt and bacterial accumulation which one reason for unpleasant adors.
Keep your fresh and confident.
Directions : Use directly or lather into palm of hands. Use in shower. Rinse thoroughly.
(INGREDIENTS) : WATER, SODIUM LAURETH SULFATE, SODIUM CHLORIDE, DISODIUM COCOYL GLUTAMATE, COCAMIDOPROPYL BETAINE COCAMIDE METHYL MEA, LACTIC ACID, FRAGRANCE, IMIDAZOLIDINYL UREA METHYLPARABEN, STYRENE/ACRYLATES COPOLYMER, GLYCERIN, DISODIUM EDIA, MENTHOL. ALOE BARBADENSIS LEAF JUICE, MALTODEXTRIN, SODIUM BENZOATE, HYDROLYZED MILK PROTEIN, POTASSIUM SORBATE. PHENOXYETHANOL GLYCINE, SODIUM LACTATE, SODIUM CITRATE.
977
---
We Also Recommend
---