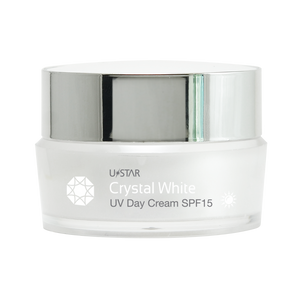 Crystal White Intensive Day Cream (30g)
22,080Ks

22,080Ks
Tax included.
Shipping
calculated at checkout.
---
---
အသားရေကိုနောက်တစ်ဆင့်မြင့်ပေးပြီးဖြူဖွေးစေပါသည်။
မျက်ကွင်းညိုခြင်း၊ အသားမညီညာခြင်း၊ အမဲစက်များကိုသက်သာစေပြီး ကြည်လင်ဖြူဖွေးသောအသားရေကိုရရှိစေပါသည်။
တစ်နေ့လုံးနေရောင်ထဲတွင်တောက်ပနေသောအသားရေကိုရရှိစေမှာဖြစ်ပါသည်။
အသားရေဖြူဖွေးစေသော Silver Vine နှင့် Gluta Bio တို့ပေါင်းစပ်ထားပါသည်။
နေလောင်ဒဏ်ကို SPF15 ထိကာကွယ်ပေးပါသည်။
Day Cream for face helps evaluate the skin's glow to the next level.
Reduce dark circle and dark spots can show off white and clear skin.
Shine bright in the sun all day.
Formulated from Japan, silver vine extract to help whiten skin evenly and Gluta Bio Active inhibits the formation of melanin that causes dull skin.
Skin whitening and protected with SPF15 sunscreen.
Directions: Apply in the morning everyday after using serum.
---
We Also Recommend
---