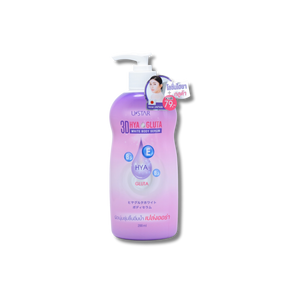 3D HYA Gluta White Body Serum (200ml)
8,900Ks

8,900Ks
Tax included.
Shipping
calculated at checkout.
---
---
ပေါ့ပါးပြီး နူးညံ့သော အထိအတွေ့ကြောင့် စိတ်ကို ကြည်လင်လန်းဆန်းစေသည်။

3D Hyaluron အပါအဝင် ဗီတာမင် E နှင့် Sea Mineral Water တို့ကြောင့် အသားအရေ အစိုဓာတ်ကို အပြည့်အဝ ထိန်းသိမ်းပေးနိုင်ပါသည်။

ဗီတာမင် B3 x B5 တို့ကို ပေးစွမ်းသော အပြာရောင် အစေ့များ ကြောင့် အသားအရေကို ပိုမိုတောက်ပစေပြီး နူးညံ့ချောမွေ့စေသည်။

အသုံးပြုပုံ 

 လက်ထဲသို့ သင့်တော်သလောက်ထည့်၍ ခန္ဓာကိုယ်အနှံ့ မနက်တစ်ကြိမ်၊ ညတစ်ကြိမ် လိမ်းပေးနိုင်ပါသည်။

Lightweight and smooth texture.

Enrich with several active ingredients including 3D Hyaluron for moisturize skin with Blue breakable beads that provide Vitamin E and Sea Mineral Water, Vitamin B3 x B5 for more moisture brightness and smoothness skin.

DIRECTIONS : Apply on your body every morning & night.
(INGREDIENTS) (W/W) : WATER, GLYCERIN,CYCLOPENTASILOXANE, ISOPROPYL PALMITATE, CAPRYLCO TRIGLYCERIDE, PHENOXYETHANOL, CARBOMER, FRAGRANCE, MANNITOL, CHLORPHENESIN, SODIUM HYDROXIDE, CELLI DISODIUM EDTA, SODIUM ACRYLATE/SODIUMACRYLOYLDIMETHYL TAURATE COPOLYMER, ISOHEXADECANE, TOCOPHERYLA POLYSORBATE 80, BUTYROSPERMUM PARKII (SHEA) BUTTER, CI 77007. ALOE BARBADENSIS LEAF JUICE, SORBITAN MALTODEXTRIN, SODIUM HYALURONATE, HYDROXYPROPYL METHYLCELLULOSE, HYDROLYZED HYALURONIC ACID, NIAC 
PANTHENOL SEA WATER, BUTYLENE GLYCOL, POTASSIUM SORBATE, SODIUM BENZOATE, ACETYL TYROSINE AMINOP ASCORBYL PHOSPHATE, ARBUTIN, CITRIC ACID, GLUTATHIONE, PAEONIA SUFFRUTICOSA ROOT EXTRACT, SAXIFRAGA SARME
EXTRACT, SCUTELLARIA BAICALENSIS ROOT EXTRACT, SODIUM SULFITE.
---
We Also Recommend
---